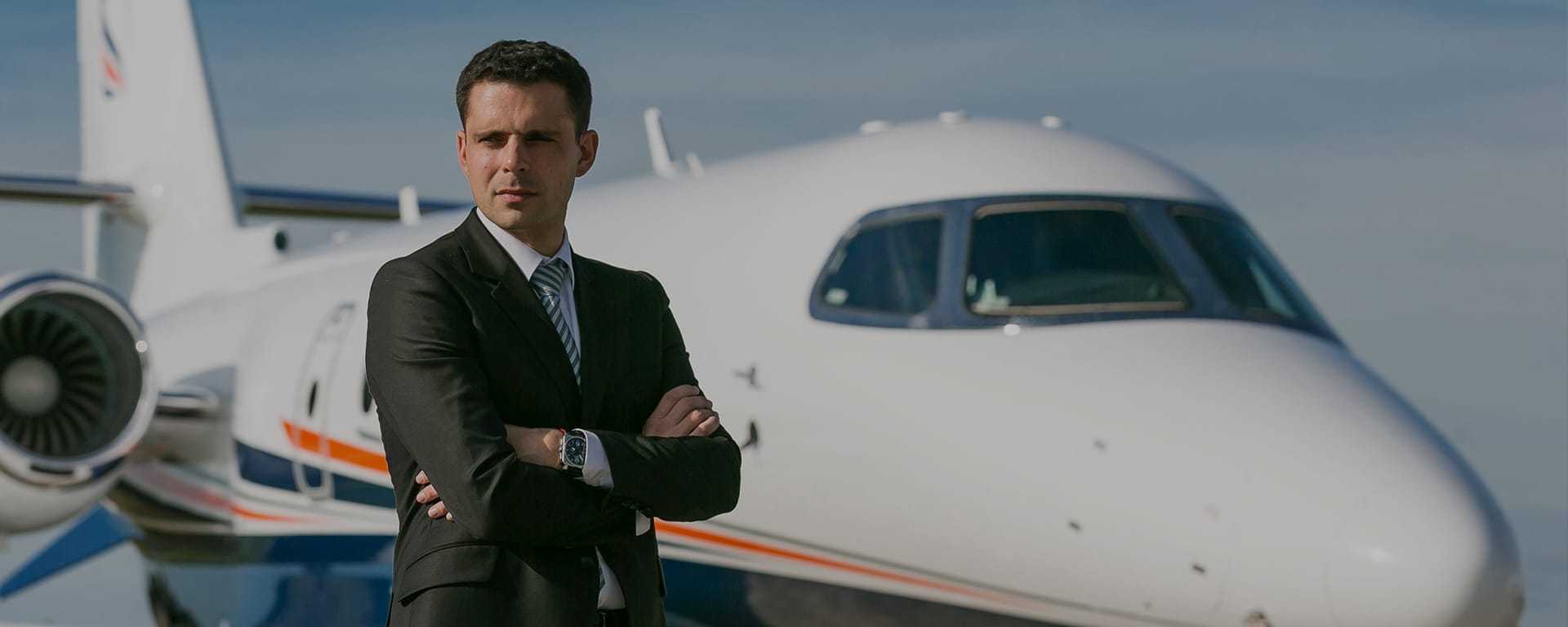 CHARLES CLAIR
BIOGRAPHY BY PASCALE NIZET
CHARLES CLAIR
BIOGRAPHIE SIGNÉE PASCALE NIZET
Charles Clair, 38, heads a small aviation empire. By the 2000s, his name began to go around the inner circle of business aviation. Today, he is in sole charge of a business aviation company, the premier French flight training school, an airport assistance company, as well as an aeronautical maintenance centre. The first business, founded with just 2,000 euro of his savings, flourished. It has just invested 10 million euro in the acquisition and renovation of the largest terminal at Le Bourget airport.
Nothing predestined this son of a dental technician and a stay-at-home mum to become a pilot. More likely the boss of the pilots… It was during a family holiday in the United States that Charles Clair heard the voices of aviation whisper his vocation to him.
During a seaplane discovery flight over the Mississippi, the pilot placed him at the controls when he was only 15 years old. "It was obvious, I wanted to become a pilot." Besides the attraction of the aircraft and piloting, the profile of an entrepreneur was already there: "I understood on that day that in life, you must first set a goal, then you trace the path to reach it. And that is aviation." Motivation, ambition, and a powerful work ethic are the words that come to mind, reading the rest of the story.
From light aircraft to private Falcon
But it wasn't the right moment to convince customers. Charles first had to convince his parents that he had found the right career. At the end of the 1990s, the recruitment of airline pilots was not going well. "Once I joined the flying club, I had to prove to them that it was not a teenage whim." The proof came barely a year later, on the day of his 16th birthday. Charles made his first solo flight on an Air France Aeroclub (ACAF) plane at Toussus-le-Noble, in the Yvelines. Another sign of his destiny, as we shall see… At 17, he was qualified as a private pilot. Mum and Dad were reassured about his motivation and assured him of their financial support for his professional pilot training. Charles had yet to tame the airplane.
"I often came back white and very tired from my first flights! "After his baccalaureate, the first professional stage of pilot training was the sacrosanct theoretical ATPL which Charles passed at the Mermoz Institute in September 2000. He passed the 14 certificates at first attempt and then joined EPAG, at the time a famous flight school in the north of France which trained the future crews for Air France.Once on the job market in 2003, Charles sent hundreds of CVs to airlines. In vain, it was the middle of the September 11 crisis and the economic situation was at its worst. Determined to no longer rely on family money, Charles sought temporary employment, for the time needed to wait for better days.
«I understood on that day that in life, you must first set a goal, then you trace the path to reach it.
And that is aviation.» 
« I understood on that day that in life, you must first set a goal, then you trace the path to reach it. And that is aviation. » 
He then became a teaching assistant at the Mermoz Institute and invested the savings earned in this position in training as an instructor pilot, with the idea of increasing his flying hours and to thus become more attractive to potential employers. His very first activity as a professional pilot was offered to him by the Boulogne-Billancourt Aeroclub (ACBB) at Saint-Cyr l'École aerodrome. Installed as a volunteer instructor in the right seat of a Robin DR400, he was enthusiastic about the idea of putting theory into practice which he passed on to his students through meticulous pre and post-flight briefings. This took too long for the club officials who saw the fleet's flying hours drop after Charles arrived!
"Do it well or don't do it, that's my motto". Charles Clair understood from this first professional experience that his obsession with a job well done could only be fulfilled in the context of his own flying school. It was called Air & Compagnie, in 2004 and success came quickly, registrations for the "Charles Clair" flying lessons sold out.
Charles got an interview with the company director and put all his cards on the table. "I told her that I was by no means a trade professional, but that I just wanted to be a pilot with them". Impressed with the audacity of the candidate, and although DARTA was not recruiting at that point in time, Sylvie Darnaudet promised that he would be the next pilot hired. She also made a prediction that would soon be confirmed: "We will take you as a pilot, but I predict that you will not stay with us, you are not made to be a pilot …" At least, not only a pilot…
Charles took advantage of this new reprieve to perfect his English in the United Kingdom. "And then one day, when I was at Starbucks, I received a call from the chief pilot of DARTA: you start Monday, on a Beechcraft 200! ". First goal achieved, now was the time to set others.He went and offered DARTA a partnership as a business provider. It was the beginning of the great period for brokers, who mediated between customers and air operators.
The persuasiveness that worked with his parents had developed, and Charles won a business provider's contract with DARTA. He then had to find customers to keep the company's trust! Thanks to his relations within the Tour de France organization, he made it possible for DARTA to sell the Tour de France the first private flight for transporting cyclists and VIPs, giving up his commission to snatch the deal from under the noses of competing brokers. The objective here was not to earn money, but just to meet Sylvie Darnaudet, decision-maker for the hiring of pilots within the DARTA company. He was still on the same path…
However, the goal of the little boy flying over the Mississippi remained out of reach. The shoulders of the shirt remained free of gold braid… Charles, while developing his Air & Compagnie school continued his quest for a job as an airline pilot. It was all a question of the route, he said to himself in the cockpit of this seaplane … a different strategy was needed…
Charles then became interested in business aviation, while his classmates could only conceive of the job if there were a hundred passengers behind them. He approached DARTA, short for "DARnaudet Transport Aérien", one of the pioneering operators of Le Bourget airport, famous for its family atmosphere but also for the entry Cerberus, a commercial manager who filtered new arrivals, whatever post they were applying for. Certain that his CV would not get past the executive office if he submitted it in the traditional way, Charles took a more original approach.
While ensuring the high pace of work of a business jet pilot on permanent beep call, Charles continued to develop Air & Compagnie. He adopted a pace of work which has remained his own, so to speak: "Except for statutory rest, I worked 7 days a week, and moved daily between Toussus and Le Bourget with my two-wheels". Scooter, impeccable suit, confident speech and look, this is an entrepreneur.
As Air & Compagnie passed the 3 million euro turnover mark, Charles Clair qualified in 2009 as a Falcon 50 pilot, then became assistant to the chief pilot at DARTA. He reformed the operations management system and left his mark, just as he had tried to do with his first employer. "It was at this point that I felt the passion for business taking precedence over that of flying." One fine day, he said to the Darnaudet, father and daughter: "The days of the Beechcraft 200 are over, you have to switch to the Very Light Jet." With his characteristic self-assurance Charles dared to tell his company bosses, the majority of whose fleet was made up of propeller planes, that they needed to change type. A few months later, the "VLJ" market exploded with the arrival of the Cessna Citation Mustang. 
Charles persuaded an owner pilot whose Cessna Citation Mustang private plane was housed by DARTA, to place it in the Public Transport fleet with DARTA in order to begin the transition. He thus encouraged the Darnaudet to open a new flight sector, with a 10th type of aircraft. Responsible for integrating it into the fleet list with the Directorate General of Civil Aviation on behalf of DARTA, Charles Clair was turned down. 10 different types was too much for this company.
Every pilot's dream: to have their own airline
That was without counting on his stubbornness. "Since I had been flying for DARTA, I had lived on my pilot's salary and hadn't touched my Air & Compagnie earnings." Again, he had a proposal to make to the Darnaudet: "I will invest the financial reserves from my flight school to set up my own company and operate this plane. But it will fly exclusively on behalf of DARTA. In exchange, you guarantee me 300 hours of annual flight time." Deal done. The AOC (Air Operator's Certificate) of the new company "Astonjet" was registered in February 2012.
However, one year later, DARTA came under the control of a competing business aviation group. The time being ripe for consolidation, the family business model that had made the company successful had had its day. At the same time, their visions for the future were no longer so convergent so Charles broke off the exclusivity and left to stand on his own two feet. "For the first time, I was going to have to live off my business, without the security of my pilot's salary!" This was a big jump.
Charles made arrangements: for a holding company, a maintenance workshop, one then two then three airplanes, he initially invested 400,000 euros to acquire infrastructure at Toussus. An industry leader of a CAC 40 company also entrusted him with his private plane. Charles was still demonstrating his negotiating skills: "I had 15 minutes before the board of directors of this group to convince them to buy a new plane, I had repeated my pitch dozens of times, it lasted 17 minutes, I got the plane."
The group reached the 10 million euro turnover mark in 2014. The Astonjet fleet continues to develop and includes, in addition to the first Cessna Citation Mustang that made it up, the latest flagships of the American manufacturer, such as the Citation M2 from 2016, and even the Citation Latitude in 2017. "From 2019, we will go long-haul with heavier and even more efficient business aircraft".
Charles Clair now had his own airline, Astonjet, founded in 2009; a flying school, Astonfly (formerly known as Air et Compagnie) born in 2004, and now the premier French ATO (Approved Training Organization) with nearly 150 airline pilots trained each year and a dedicated fleet, distinct from that of the airline, of around thirty light single- and twin-engine light aircraft.
New real estate projects at the dawn of 2018
«When we are operating more and more and larger and bigger planes, the owners are no longer satisfied with housing their aircraft in a third party terminal, as was the case with our partner at Le Bourget until last year…» Having his own terminal was the next step on the path for Charles Clair!
However, when Charles Clair went to meet the Signature Flight Support (BBA) group, manager of three FBO (Fixed Base Operator) terminals at Le Bourget, in the spring of 2018, that was notyet his ambition. He had come to inquire about renting a floor in Terminal 2, located in the most northerly part of the airport.
It was during the meeting that the idea became a matter of course: "What if I bought the whole building from you?" The English group was not even selling! Yet, won over by Charles' arguments, they sold. "With three FBOs at Le Bourget, there was one too many, and I think they were reassured by the fact that I was not a direct competitor. All the other airport assistance groups were in the hands of shareholders with capital of over 500 million euros each when I had only 500K in capital!"
This terminal, renovated to 5-star standards, houses the Astonjet airline fleet since September 2019 and is called "Astonsky Terminal", with 7,000 m2 of offices, 3 hangars and 16,000 m2 of aircraft parking. "We want to make Astonsky a benchmark for French luxury, dedicated to an ever more demanding clientele. We have completely redesigned the reception and service to be offered to passengers and crew arriving here. Above, five floors are reserved for group activities and a few tenants, all in an environment that we want to be exceptional." For this real estate project too, the ideas are well established!
South of Paris, the pole at Toussus-le-Noble is also growing with the acquisition of new planes and simulators. Clair Group today has 130 employees, 30 million euros turnover, 11 planes at Astonjet, and 40 at Astonfly.
The road has become straighter since the 2000s… Charles Clair dreams of managing larger structures. "At each level of business, we are learn: in a VSE we are operational, in an SME, manager, then in an medium sized entreprise, strategist…
A business that does not grow will shrink, this should never be forgotten." As we have seen, when Charles Clair has a dream, he makes it happen. So let's wait until we know the next string to the Clair Group's bow.
One day a pilot…
What about piloting? "I keep my licenses up to date and continue to fly, it is important for the expertise that I have to keep to advise my future owner-customers. But I am certainly the last pilot in the company to be scheduled for a flight!" Like all current operators, Astonjet suffers from a pilot shortage, so in case of understaffing, the boss gets called up! "When I prepare my flight, I wonder what I'm doing there, the phone keeps ringing and we have to concentrate … Then we lock the door, we start the engines, we take off, we retract the landing gear, and only then, I tell myself that this activity is exceptional and I take advantage of the break from the ground." At least for that reason, Charles will continue to fly, to take breaks! He even bought a Cirrus SR22 to make it easier to meet his customers in Europe.
In addition to his flying, Charles Clair also participates in motor sport aboard Formula 3 single-seaters, his other passion when he has the time (which is rare).
Oh, by the way, why "Aston"? "Because of the term Astonish, meaning Amazing." Surprising! 
Biography by Pascale Nizet, press and aeronautics specialist.